Bernie Sanders Proving Small Donors Count
The Bernie Sanders Campaign Is Proving That Small Donors Count
The Presidential campaign of Bernie Sanders is still proving that small donors count for a lot. They have kept Bernie on par with the other candidates now for a second Presidential campaign in a row. Our small, sustainable, repeatable, donations are the first result of people power trumping money power. The ultimate victory of people power is on voting day, but first we need to continue to fund the nomination at the Democratic National Convention. Small donors don't just count for funding, they make Bernie credible to the media and the Democratic Party.

At the DNC we ought to make the second runner up be the Vice Presidential candidate. Keep the Party indivisible.
Facts About Republican Deep Pockets

The GOP is going all in to shield their president from the consequences of breaking the law. And if we don't respond now, they're going to succeed.

According to the New York Times, Trump has spent roughly 8 million dollars on digital and TV ads. On top of that, the Republican National Committee (RNC) says they've spent another $2.3 million. And here's the kicker: Just yesterday, Politico broke that the American Action Network, a Republican advocacy group, is launching a $7 million anti-impeachment advertising blitz in 37 congressional districts.

Here's what we're hoping to do to fight back, if we can fully fund it:

Organize activists in target states to call, call, call their senators and tell them to impeach.
Help blue state activists drive even more calls to targeted Senate offices with a state-of-the-art, $145,000 calling tool that connects activists to each other.
Run digital ads to further increase pressure. Our initial buy is $286,000, but with more donations, we could scale up.

The GOP will do literally anything to protect Trump, but if we can't keep pace with their spending, they will beat us.
"Why now, Faiz? You send a bunch of these emails, so why should I make ANOTHER donation after reading this one?"
I get this question a lot. So I hope you'll give me a chance at an answer. Because today, there are two very good reasons.
First, we are less than one month away from voting. Yes. Less than one month. And what we are seeing now is Pete Buttigieg and Joe Biden's super PAC spending a lot of wealthy people's money to increase their campaigns' early-state advertising.
We cannot let that go unanswered. And Bernie needs your help, or we risk falling behind.
Next, the debates. We are hoping for a huge number of individual donations before Bernie gets off the stage each night. Not just to fund our campaign, but because each sends a message that we are a grassroots campaign that can beat Trump.
As you look at the stage and listen to some of the candidates, please know that I do not spend my time, not one minute of one day on this campaign, walking into some wealthy person's home and walking out an hour later with a few hundred thousand dollars.
And that is because we need a nominee with the guts to stand up to Wall Street, the drug companies, and the fossil fuel industry, not one who begs them for money. This is a different campaign than you have ever seen before:
This is a campaign FOR the working people of this country, powered BY the working people of this country. With more volunteers than any campaign. And more than 4.5 million individual donations at an average of $18 a piece.
We have a rigged economy in this country; one held in place by a corrupt system of campaign finance. And we will never change that system if we so eagerly take its money. I will never do that.
In solidarity,
Bernie Sanders
Bernie 2020: ZERO billionaires

The 6th debate is over, and what everyone saw was this:
If we want THE candidate who will beat Trump, the choice is clear: it is Bernie Sanders.
Bernie Sanders has shown the judgement to be right the first time, on the big issues like trade, the war in Iraq and the bankruptcy bill.
And Bernie Sanders is un-corruptible. He doesn't beg the wealthy and powerful for money. He owes them NOTHING.
Joe Biden has had 44 billionaires contribute to his campaign. Pete Buttigieg has 39. We are proud to have ZERO billionaire donors to this campaign.
If you want the candidate with the GUTS to fight the greed and corruption of the billionaire class, the candidate who will fight for the working people of this country, and the candidate who will beat Trump, Bernie needs your help:
Can Bernie count on you to make a $2.70 contribution to our campaign? This is important. Especially tonight.
This is a campaign by the working people of this country and for the working people of this country. And that is precisely why we are going to not only win this primary, but why we will beat Trump and transform this country.
In solidarity,
Faiz Shakir
Campaign Manager
---
Can MoveOn Send You A Free Sticker?
Dear MoveOn member,
It's official: The House has just voted to impeach Donald Trump, making him only the third president in United States history to achieve such an infamous designation.
This is an enormous milestone, driven in large part by the work of MoveOn members like you.
To mark this momentous day, and to remind the senators who will now pick up the process that no one is above the law. MoveOn has printed a big batch of these impeachment stickers, and we're giving them away for free while supplies last.
Just click here or on the image below to order yours now!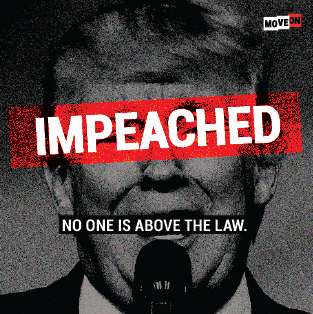 As we move into this next phase of the impeachment and removal fight, let's not forget just how much work went into building a movement to make this day possible.
MoveOn called for Trump's impeachment over two years ago, after his first attempts to obstruct the investigation into Russian election meddling, and ever since, MoveOn members and our allies have been steadily growing a coalition of support for impeachment in the face of Trump's continued, blatant, and unrepentant criminality.
Although the House voted to impeach Trump on only two counts. Abuse of power and obstruction of Congress. They point to the larger pattern of his corruption and cruelty.
As the Mueller report laid out, Trump attempted to obstruct that investigation at least ten times, and he encouraged contacts between his campaign and Russian agents.
Not only did he attempt to bribe Ukraine into interfering in the 2020 elections, he then openly called for China to do the same and directed his administration to refuse to cooperate with the House's investigation of those efforts.
And most heinously, he violated international law by ripping children from their families at the border and holding immigrants and asylum-seekers in concentration camps, often without access to food, water, hygiene products, or medicine.
Donald Trump may not have earned much in his life on his own, but he earned his impeachment.
Now let's spread the word that Trump is not above the law and make sure that the Senate does its job by convicting and removing him from office.
Click here to get your free sticker now.
Thanks for all you do.
–Kelly, Kate, David, Mark, and the rest of the team
Want to support our work? The MoveOn community will work every moment, day by day and year by year, to resist Trump's agenda, contain the damage, defeat hate with love, and begin the process of swinging the nation's pendulum back toward sanity, decency, and the kind of future that we must never give up on. And to do it we need your support, now more than ever. Will you stand with MoveOn? Be one of our small donors.
Click here to chip in $3, or whatever small donation you can afford.
Contributions to MoveOn Civic Action are not tax-deductible for income tax purposes. MoveOn is where millions mobilize for a better society. One where everyone can thrive. MoveOn members are committed to an inclusive and progressive future. We envision a world marked by equality, sustainability, justice, and love. And we mobilize together to achieve it despite the small donors vs big money. MoveOn members are a force for social justice and political progress. We come from all 50 states and all walks of life. Together, we are at once large and nimble, targeting our resources purposefully, yet pivoting quickly as we identify new
opportunities for change and mobilize to seize them. Our rapid-response organizing and campaigning, communications interventions, digital innovation, rigorous data science and testing, and culture of grassroots participation have repeatedly combined to produce real-world impact, changing outcomes and making our country better. Repeated here gratis as a public service of Resistance.Motiv8ionN8ion.com
---
Download the BERN App
If you have ever thought to yourself, "I'll contribute again to Bernie's campaign, but when he needs it closer to the election," well, today is the day.
Because this is a MASSIVE week for our campaign.
The next debate is days away, voting is less than a month away, and big money is flooding into our opponents' campaigns in an effort to stop us. And to make it even more important, our huge FEC deadline is two weeks from TODAY.
So, Bernie could really use your help today. What do you say, a small donation? Just use this link:
Can you make a $2.70 contribution to our campaign today? This is a big week for our campaign, and if you could chip in one more time, small donors mean a lot for our chances to win.
This campaign doesn't have billionaire benefactors waiting in the wings to save us. It's up to us, the small $3 donors. All of us. To each, whatever they can do. So thank you in advance for chipping in, if you can. It means a lot.
Tell Bernie What Issues He Should Do First As President
Debates are about candidates sharing their vision for what they'll do when elected to office.
And normally before these debates, we ask about the issues you hope Bernie will cover on the debate stage. This time we want to do something a bit different:
Can you take our short survey and tell Bernie what your top priorities are for his administration when he's inaugurated and we are in the White House?
What we want to know is what you hope Bernie will tackle when he's in office.
But more than that, we want to know how hard you are willing to fight for those priorities. Even if they don't impact you directly. Even if that means you are fighting for someone you don't know.
Because Bernie is asking a lot of you. He's not just for small donors. He's asking you to help him defeat the most dangerous president in American history.
He is asking you to roll up your sleeves on the day after our inauguration and to get to work transforming this country.
And what we want to know, as Bernie prepares for this debate, is if you are ready to do just that.
So we're asking:
Can you take our short survey and tell Bernie what your top priorities are for his administration when he's inaugurated and we are in the White House?
Bernie is out in California and Nevada this week, hosting big rallies and preparing for the big debate. We'll get him your feedback. All you have to do is add it today.
All my best,
Faiz Shakir
Campaign Manager
Paid for by Bernie 2020


Repeated here gratis as a public service of Resistance.Motiv8ionN8ion.com
PO BOX 391, Burlington, VT 05402
Fight against the billionaire class by making a contribution today.
Remember, Small Donors Matter!