Impeachment: What to Expect in December
What To Expect In Late December 2019 As The Impeachment Of Trump Goes On
What To Expect In December 2019 As The Impeachment Of Trump Goes On. These are some of the things breaking through the obstruction soon. Plus two surveys and hard facts about Congressional action on Donald Trump's impeachment going on now.
These are some of the things breaking through the obstruction and counter narrative. Expect these advances in December 2019. Your Fox News fan friends and family will think you're prophesying into the New Year. What's going on Uncle Ned? Trump's Impeachment!
In November 2019 we were able to send a strong message to our lawmakers about where we stand on impeachment. Together, we sent over 28,000 calls and emails to Congress. Thousands of grassroots donors helped us!
blitz #MoscowMitch with TV ads in his home state
and send
mobile billboards home to Republicans for Thanksgiving.
Wondering how you can stay involved?
Call your representative today and demand that they hold President Trump accountable.
Reading this on your phone?
Reading this on your desktop or tablet?
So what's next for impeachment in December? Over the next few weeks, a few crucial events will be happening in Congress.
The House Intelligence Committee is expected to present the evidence gathered from the witnesses who testified last month in a report. The committee will vote on Tuesday to move that report to the Judiciary Committee.
This week, the Judiciary Committee will also hold its first hearing. The committee is calling it an "academic" hearing featuring legal scholars who will lay the constitutional groundwork for impeachment.
We expect the Judiciary Committee to draft articles of impeachment, and move them to the floor for a full House vote before the end of the month. If a majority of the House of Representatives votes to impeach, we would move to the Senate, where the President would stand trial.
Onward!
Jack Shaw
Legislative and Communications Manager
Need to Impeach
---
oday, the Judiciary Committee is holding a historic impeachment hearing. They've asked legal scholars to help determine which of Trump's crimes warrant articles of impeachment. Here at Need To Impeach, we've been carefully tracking these and other constitutional violations for over two years. Now, we want to hear from you. Which impeachable offense do you find most egregious?
Ukraine Bribery: Trump pushed Ukraine to interfere in our 2020 elections. He used military aid to pressure Ukraine to dig up dirt on his political opponent. Then he tried to cover it up.
Profiting from the Presidency: Because Trump has retained his ownership interests in his family business while he is in office, every time a foreign official stays at a Trump hotel, or a foreign government approves a new Trump Organization project, or grants a trademark, Trump profits from that foreign country – a clear violation of the Emoluments Clause in the Constitution.
Obstruction in the Mueller Investigation: Robert Mueller's investigation into Russian interference in the 2016 election revealed multiple instances of "very substantial" evidence where Trump obstructed justice. Plus, there is significant evidence that Trump lied to Robert Mueller.
Obstruction of Congressional Investigations: The President and his administration have refused to allow key witnesses in congressional investigations to testify, including Don McGahn, Mick Mulvaney, and John Bolton. They've also refused to turn over tax returns and official documents that are part of congressional investigations. These are all unconstitutional attempts to prevent oversight from Congress.
And for more information on Trump's impeachable offenses,  visit our detailed breakdown.
---
The power of MoveOn members in this #Impeachment fight
Dear MoveOn member,
Our democracy and national security are under attack by Donald Trump—and Republicans are trying to enable and defend him at every move—which is why I, for one, am motivated to work alongside millions of MoveOn members to defend our Constitution and our elections by impeaching and removing Trump.
Recent testimony in the U.S. House of Representatives makes it crystal clear that Trump attempted to bribe and bully a foreign official into interfering in our elections for his own political benefit. This is worse than Watergate—and yet even as Democrats are working to expose the truth, Republicans are doing nothing about it.
That is why MoveOn members are taking action.
In 14 cities around the country, mobile billboards are traveling around key congressional districts in the busy days leading up to Thanksgiving, showing our demand that key Republicans stand up to Trump and support impeachment. These are members of Congress who we believe could, if faced with enough constituent pressure, break from Trump's lawless and reckless stranglehold on his party. And the billboards are already being featured in national publications including The Hill and The Washington Post.1,2
In New York's 21st Congressional District, voters are seeing an ad across TV stations hammering Representative Elise Stefanik for being such a "star" defender of Trump—and demonstrating to Republicans everywhere the kind of pressure they'll face. The ads were featured in the Albany Times Union and the Adirondack Daily Enterprise and seen more than 200,000 times online in addition to on TV.3,4
Events organized by local constituents are taking place every week in states with key senators—in Colorado, Maine, Arizona, and Kentucky. And in some cases, events are happening all across the state on the same day—fueled by MoveOn members, allies, and paid professional organizers that MoveOn members have funded. These events are being reported on in local papers of record in each state, such as Louisville's Courier-Journal.5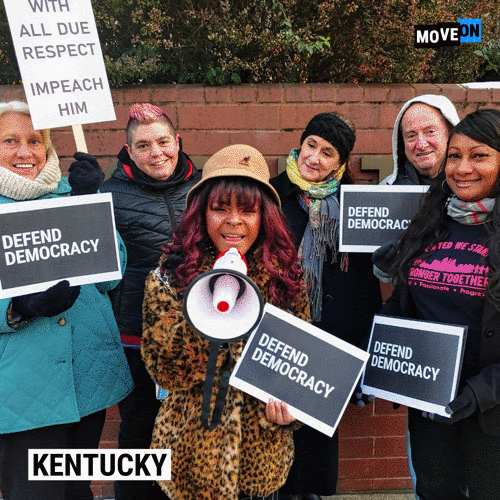 We've been bird-dogging members of Congress on Capitol Hill in Washington, D.C.—pursuing Republicans with the simple question of whether it's okay to seek foreign government interference in our elections. Dozens of Republicans have fled from the question. One pretended to be on the phone to avoid answering, and another one even head-butted the camera! You can see the video of these efforts below.
MoveOn and partners are planning actions all across the country the day before the House eventually votes on the articles of impeachment—and already more than 300 events have been registered, with almost 50,000 attendees planning to turn out.
And MoveOn members have made more than 80,000 calls to Congress—in Washington and in home districts—demanding that Congress assert that nobody is above the law.
We need your input.

MoveOn.org Survey

Can you take a moment to tell us how you think MoveOn is doing and help set our course together?MoveOn's power and direction come entirely from members like you. That's why it's important that the focus of our work be decided by MoveOn members (like you!). Right now, we need your input to help set our priorities for upcoming campaigns.

Your answers will help determine MoveOn's future course of action.

Please fill out the quick survey now.
Thanks for all you do.
It can be maddening to see how Republicans have responded to the impeachment hearings—dismissing, interrupting, and threatening witnesses who simply sought to tell the truth, some of them lifelong public servants in our armed forces and diplomatic corps.
If you're mad, keep taking action. The majority of Americans want Trump's impeachment and removal—and MoveOn members are powering these tactics, and more, all across the nation to make our voices heard.
As Robert Reich recently said in an email to MoveOn members, "Congressional Republicans know that Trump is guilty, and they know that they look like damn fools for protecting him. Every day, they are making a calculation of how far they can take this without losing their careers, which is why it is so important for MoveOn to ramp up its campaign to break the Republican dam by making an association with Trump's crimes politically toxic, leaving no choice but to get rid of Trump once and for all."
The question now is whether Republicans will continue to be complicit in Trump's crimes and corruption—or whether they'll choose higher ground. Now is the moment to push them to make the right choice—over this congressional recess week and when they're back in Washington, through the weeks ahead. And to keep thanking Democrats who are standing strong for the principle that nobody is above the law.
James, will you chip in $3 a week to help MoveOn's all-hands-on-deck campaign to impeach, convict, and remove Donald Trump from office? (MoveOn will bill your weekly donation to your credit card once a month starting today and will contact you shortly after Trump is no longer president to see if you want to modify or cancel your weekly donation.)
Yes, I'll chip in weekly to help keep MoveOn's impeachment campaign going for as long as it takes.
No, I'm sorry, I can't chip in weekly.
Thank you for all you've been doing to defend our elections, national security, and Constitution. Together, we'll keep up the fight.
Thanks for all you do.
—Rahna, David, Elsie, Erik, and the rest of the team
Sources:
1. "Billboards calling on House Republicans to 'do their job' follow members home for Thanksgiving," The Hill, November 25, 2019
https://act.moveon.org/go/113785?t=11&akid=251534%2E37212143%2ESt-XgU
2. "Schiff says report will be forwarded to Judiciary Committee soon after Congress returns next week," The Washington Post, November 25, 2019
https://act.moveon.org/go/113786?t=13&akid=251534%2E37212143%2ESt-XgU
3. "After hearings, North Country district wins attention, campaign cash," Times Union, November 22, 2019
https://act.moveon.org/go/113787?t=15&akid=251534%2E37212143%2ESt-XgU
4. "Trend warfare: More attention and cash flow to NY21 Congress race," Adirondack Daily Enterprise, November 26, 2019
https://act.moveon.org/go/113856?t=17&akid=251534%2E37212143%2ESt-XgU
5. "Local politicians, college activists to McConnell, Paul: 'Our democracy is not for sale,'" Courier-Journal, November 22, 2019
https://act.moveon.org/go/113849?t=19&akid=251534%2E37212143%2ESt-XgU 
Want to support our work? The MoveOn community will work every moment, day by day and year by year, to resist Trump's agenda, contain the damage, defeat hate with love, and begin the process of swinging the nation's pendulum back toward sanity, decency, and the kind of future that we must never give up on. And to do it we need your support, now more than ever. Will you stand with MoveOn?
---
Click here to chip in $3, or whatever you can afford.
Contributions to MoveOn Civic Action are not tax-deductible for income tax purposes. You're recieving this email because you took action with MoveOn. MoveOn is where millions mobilize for a better society—one where everyone can thrive. MoveOn members are committed to an inclusive and progressive future. We envision a world marked by equality, sustainability, justice, and love. And we mobilize together to achieve it. MoveOn members are a force for social justice and political progress. We come from all 50 states and all walks of life. Together, we are at once large and nimble, targeting our resources purposefully, yet pivoting quickly as we identify new opportunities for change and mobilize to seize them. Our rapid-response organizing and campaigning, communications interventions, digital innovation, rigorous data science and testing, and culture of grassroots participation have repeatedly combined to produce real-world impact, changing outcomes and making our country better.