Take This Short Impeachment of Donald Trump Quiz
Take This Short Impeachment of Donald Trump Quiz
from Need To Impeach & Get A Free Sticker
Hi there,
Please take this short impeachment quiz, and share with your friends…
Annie Kuenning -July 24 2019
Want to take a break and have some fun?
Take our new impeachment quiz to see how much you really know about impeachment.
The average score is 79%.
See if you can beat it!
Knowing the facts about impeachment is a critical part of holding this lawless and dangerous president accountable. Plus, who doesn't love a quiz?
I got 9 out of 10 questions right — almost enough to be an "impeachment master," but not quite. Hopefully, that's high enough to make my mom proud.
Good luck,
Anne Kuenning
Digital Engagement Associate
Need to Impeach
& Get A Free Sticker Here
Trump should be impeached for mass child endangerment.
Dear MoveOn member,
From the very beginning of his presidency, Donald Trump has ruthlessly targeted immigrants and refugees with cruel, racist, xenophobic policies that have torn apart families and communities.
From the Muslim Ban to the ongoing family separation crisis, Trump and his administration have done everything in their power to demonize and terrorize these communities while praising white supremacists and bigots.
MoveOn members have been on the frontlines of these fights: occupying airports to protest the Muslim Ban, organizing in droves to stop the family separation policy, and more—and now we are taking our grassroots power to the streets again.
MoveOn and our allies have erected a 8-foot-tall Statue of Liberty in the center of Washington, D.C. which bears the phrase "Immigrants Welcome Here" in several languages, and we are inviting the public, immigration movement leaders and activists, and members of Congress to come out and see it, take pictures with it and share them with family and friends, and show their support for immigrants and refugees.
But we know that not everyone can make it to Washington, which is why we just printed a big batch of "Immigrants Welcome Here" stickers and are giving them away FOR FREE while supplies last.
Click here or on the image below to order your sticker now and join the national movement!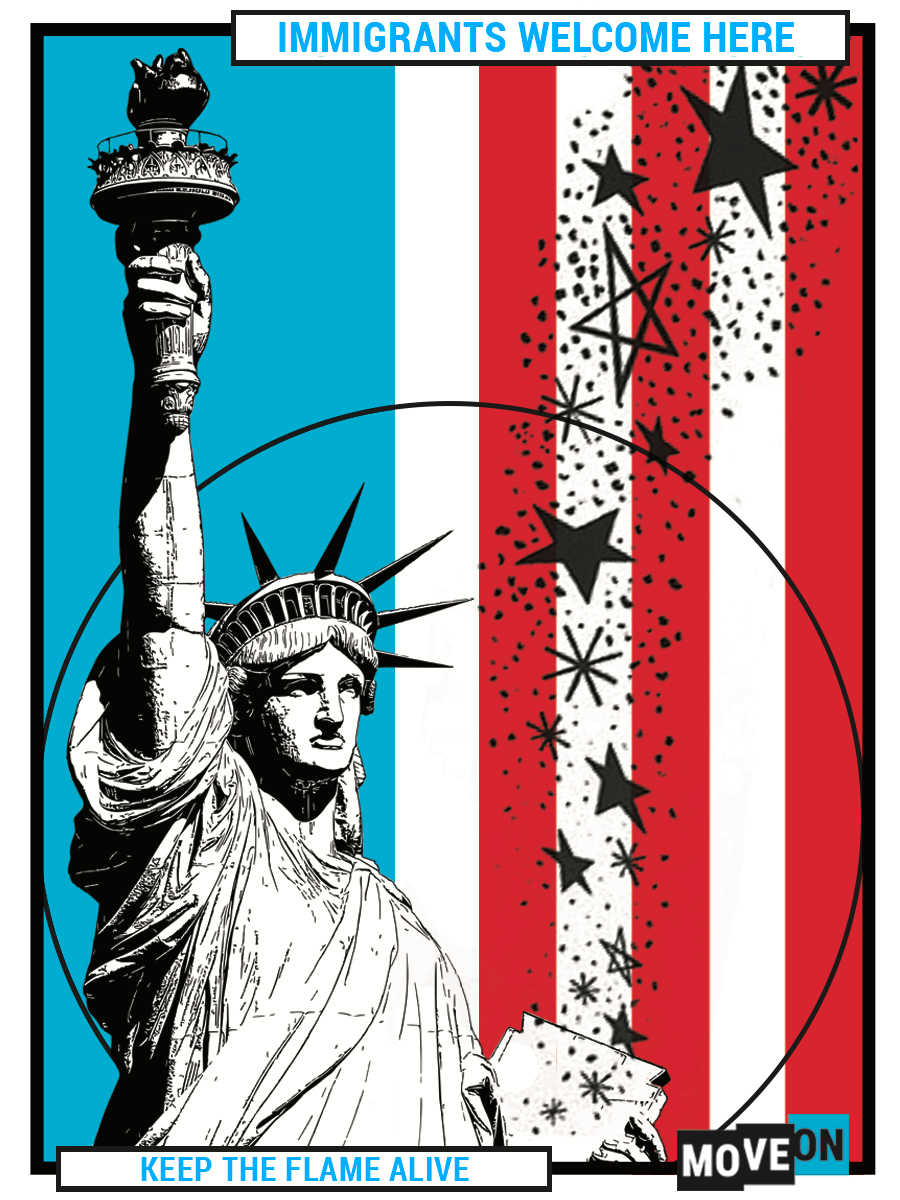 America is made stronger by immigrants and refugees, and we must work every day to counter the hateful, racist rhetoric of Trump, his advisor Steven Miller, and their Republican cronies.
Click here to order your free sticker now, then place it somewhere visible to help declare that Americans will always welcome immigrants and refugees.
Thanks for all you do.
–Corinne, Kelly, Emma, Reggie, and the rest of the MoveOn.org team
---
We've done amazing things. Next we'll need to do even more.
Indivisibles,

We're halfway through the year, and already, we've done some amazing things. In the weeks and months ahead, we'll need to do even more. In a minute, we'll ask you to support our work, but first, we want to highlight five of the many, many, MANY amazing things we've been able to do together this year, thanks to your help:
We went big. We organized our largest nationwide day of action ever on January 3rd. The "Whose House? Our House!" actions showed that Indivisibles would hold our members of Congress accountable to our principles of democracy and justice — right from their very first day. With 168 events in 31 states, the January 3rd actions felt like the start of a new era for Indivisible — and set the foundation for a successful offense in the House.
We rolled out hard-hitting tools to save democracy. We launched our plan to save democracy in ALL 50 states, and we're already building critical infrastructure to win big in state legislatures. Ezra and Leah wrote the We Are Indivisible book to bring key strategies and tools into the mainstream, with 100% of proceeds going to our Save Democracy Fund. We're excited to keep creating the strongest movement-building tools possible. Stay tuned for the book's publication in November!
We fought to #StopTheBans. In May, thousands of Americans across all 50 states, DC, and Puerto Rico showed up to defend Roe v. Wade, stop attempts to punish people who need access to safe abortions, and #StopTheBans. We partnered with NARAL and 75 other organizations in organizing the #StopTheBans coalition — and we got so much attention on the event pages that we went through or web traffic budget for the entire year!
We took our fights to the states. We launched a state program this year that generated lobby days and thousands of calls to state legislators across the country. Just a couple examples: In Texas, Arizona, and Florida, Indivisibles fought to protect voting rights against GOP attacks. In California, Indivisibles lobbied for an end to police brutality, climate change, and healthcare. In Nevada, we fought for criminal justice reform. In New York, Indivisibles pushed hard for expanded voting rights. And we're going to do more!
We turned the blue election wave into a blue legislation wave.The House of Representatives has never been this progressive or this representative of the American people. You did that. Now, we've passed H.R. 1 in the House — a bold, democracy reform package with measures to increase voting rights and reject corporate money from politics. We also helped push Congress to pass S.J.Res. 7 to end U.S. support for Saudi war crimes in Yemen — the first time Congress has ever voted under the War Power Resolution to pull the United States out of an unconstitutional war. These big bills are lighting the way for the future of the Democratic party and setting the progressive agenda in 2021 and beyond.
This has already been a big year for the Indivisible movement, and this only scratches the surface of what we've done. We're only going to grow more in the coming months and years as more people join our movement and the fights continue to escalate.
Indivisible has always been a people-powered movement. We didn't grow because of some huge infusion from a shady dark-money donor: we grew because you believed in us, and turned out to make calls, knock doors and chip in $5 and $10. We grew, because you believed in us and you invested in us.
We're asking you to believe in us again today. We don't accept funding from political parties or leaders, or from candidates for office or from corporations. And we only fundraise when we actually need money to fund our work. But the plain fact is, the work we outlined above doesn't happen for free — it requires staff, tech tools, advertising and more and all of those cost money.
If you believe in this movement and want to see more amazing work like this, please pitch in to support Indivisible Project today. Without any money from corporations or political figures, every contribution really matters.
Lastly, congrats y'all. We're so proud to be in this together.
In solidarity,
Indivisible Team